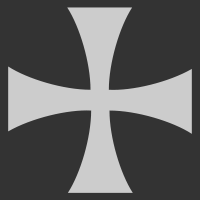 The Knights Hospitalier used many variations on this cross as their crest.
Knights HospitalierReligion:
Romalian Pantheon
Nationality:
Gallian
Location:
Ager Poor District
The
Knights Hospitalier
also known as
Sovereign Military Hospitaller Order of St. John of Filiolus of Itero and of Multi, Order of St. John, Knights of Multi, and Chevaliers of Multi
, was one of the Northern orders with the Third Crusade; the Knights Templar being another. Their emblem was a white cross, often on a black background. The Knight Hospitalier were founded in the city of Filiolus to provide care for poor, sick or injured pilgrims to the Holy Land, but became a much more militaristic organization with the onset of the Crusades.


Last edited by Suffragius de Le on Mon Sep 06, 2010 2:43 am; edited 1 time in total